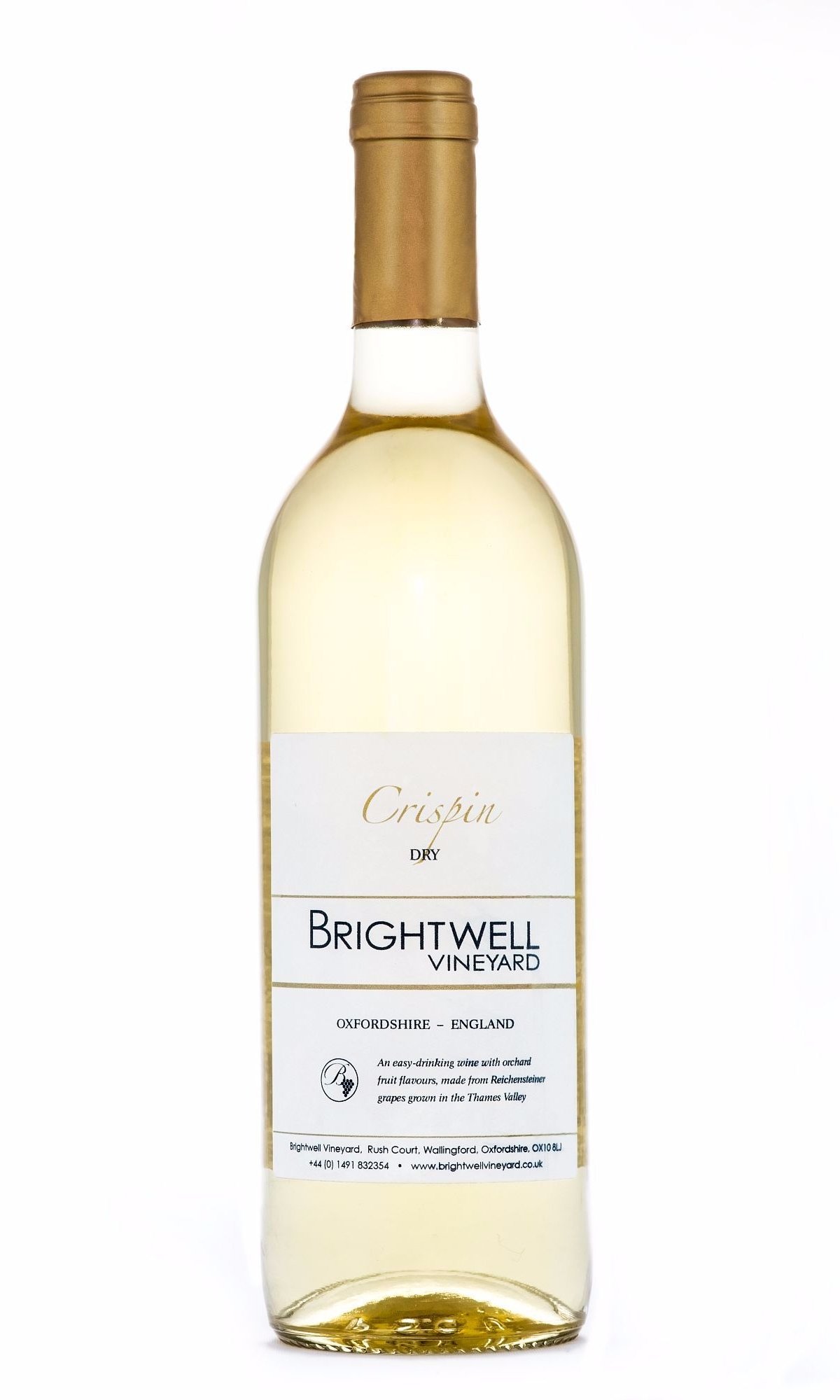 A dry wine from Reichensteiner grapes, with a lower acidity balanced to give a softer edge. Crispin shows a subtle fusion of orchard fruit and herb flavours with lingering hints of apples and pears.
Reminiscent of Pinot Grigio, Crispin is an easy drinking wine that is ideal at any time, as an aperitif, or as an accompaniment to fish, cheese and white meats.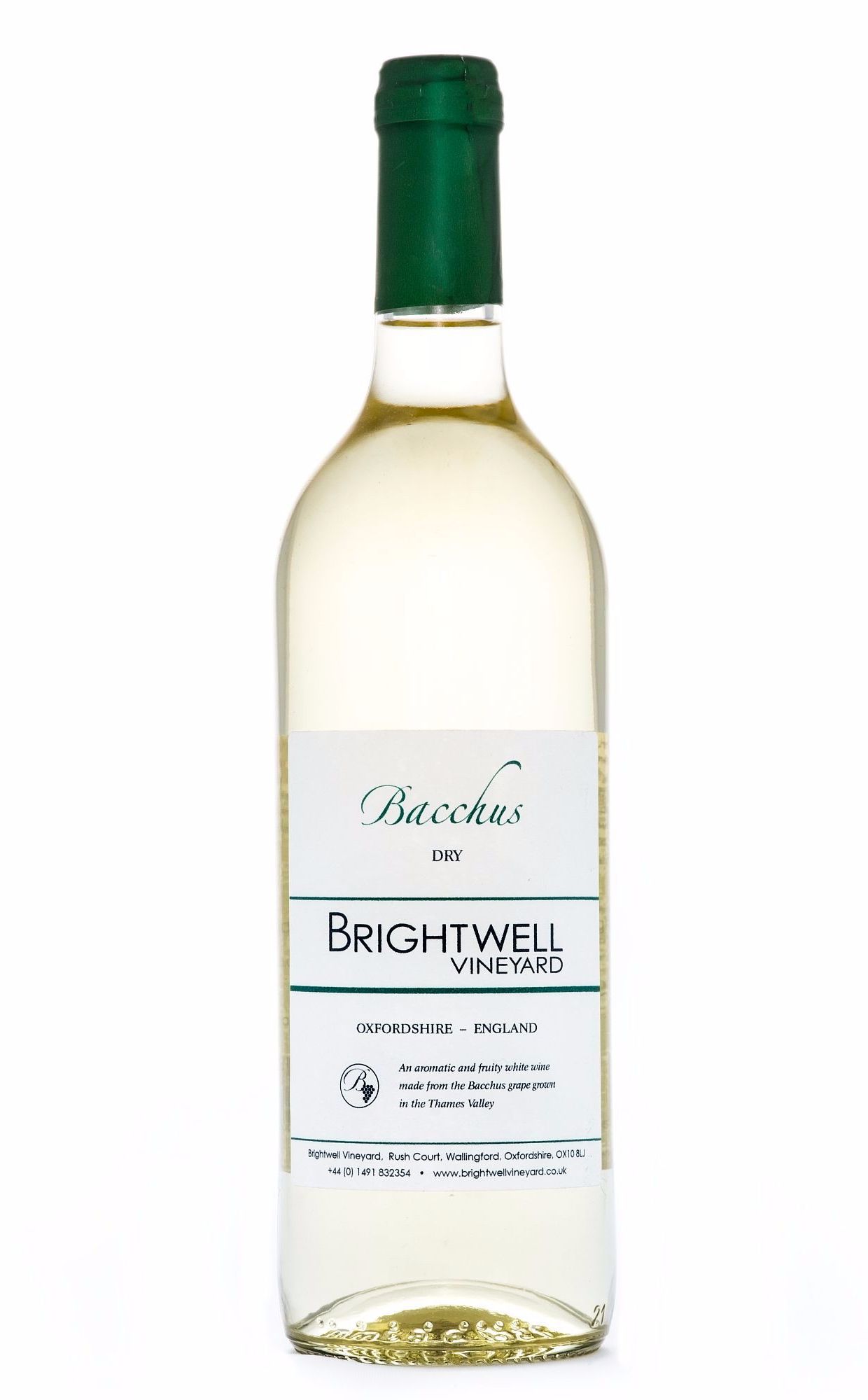 This is a soft and fruity white wine with a natural fruit sweetness to balance its dry structure. The wine captures the aromatic flavours of the Bacchus grape in a gentle and easy drinking wine.
An ideal party wine that can be drunk after beer, Bacchus is a perfect accompaniment to pasta and chicken dishes. Bacchus is a 'green fruit' wine similar to Sauvignon Blanc, and is superb with cheese.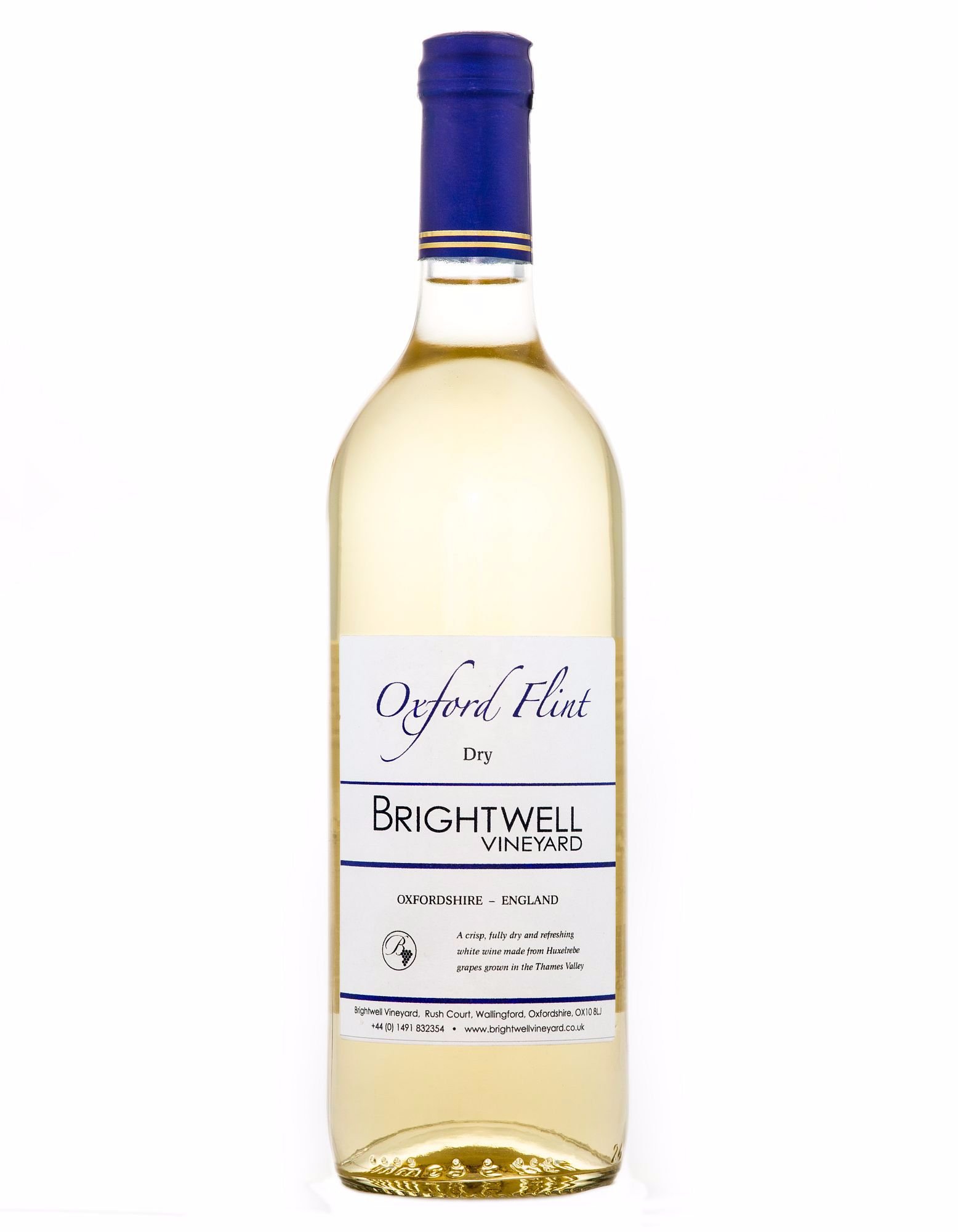 A fully dry wine from Huxelrebe grapes, Oxford Flint is a classic white wine in the style of the Loire Valley. It has fresh acidity with crisp mineral tones and finished with a hint of grapefruit.
Oxford Flint is very refreshing, and is ideal as an aperitif, or as an accompaniment to fish and white meats. Its zesty acidity also allows it to partner spicy foods such as Chinese and Thai dishes!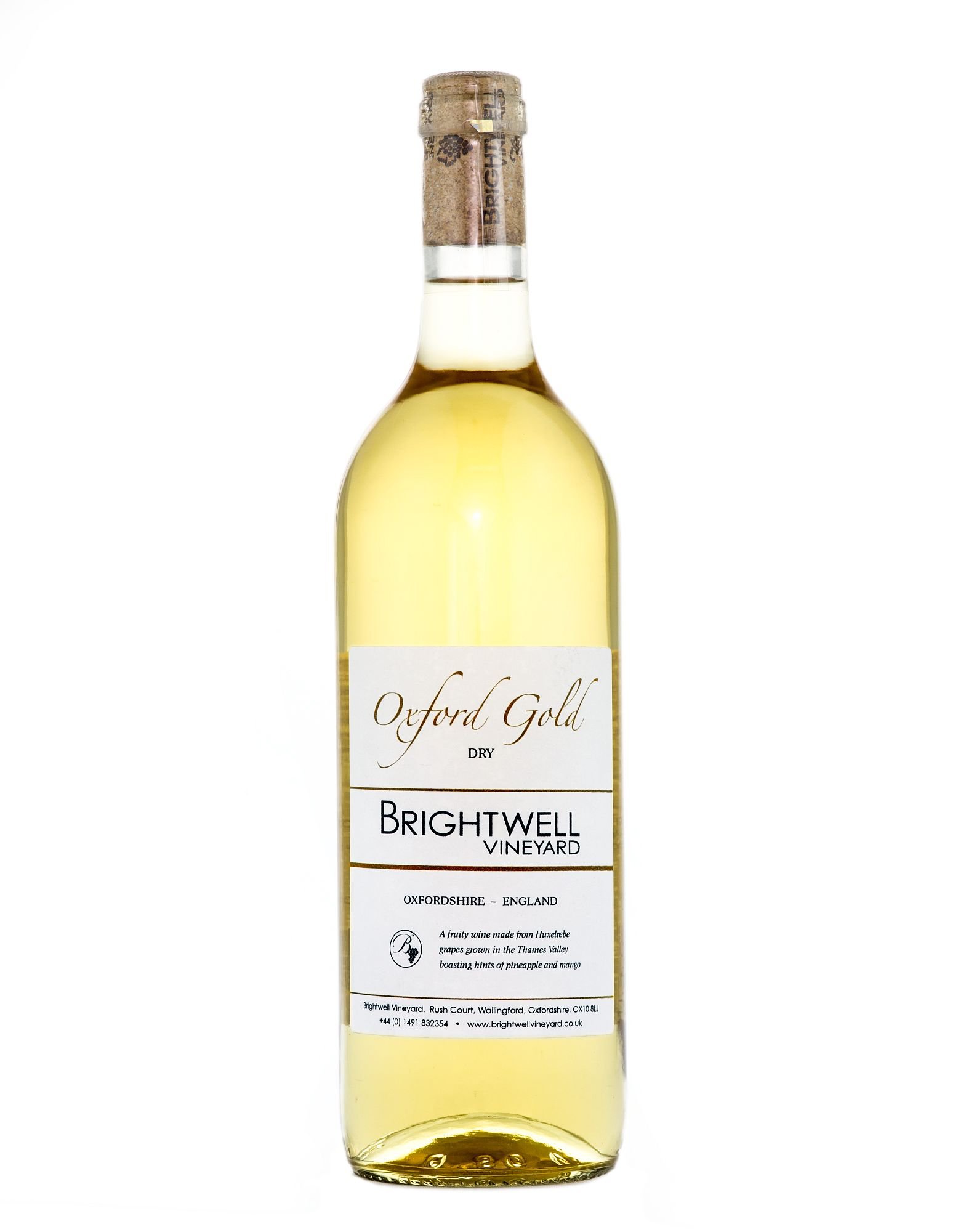 A succulent wine made from Huxelrebe grapes. This is a more full-flavoured dry white with a deception of sweetness, and a rich mouth-feel and length.
Full of hints of pineapple and melon it's complex fruit flavours allow it to serve well as a dessert and cheese accompaniment.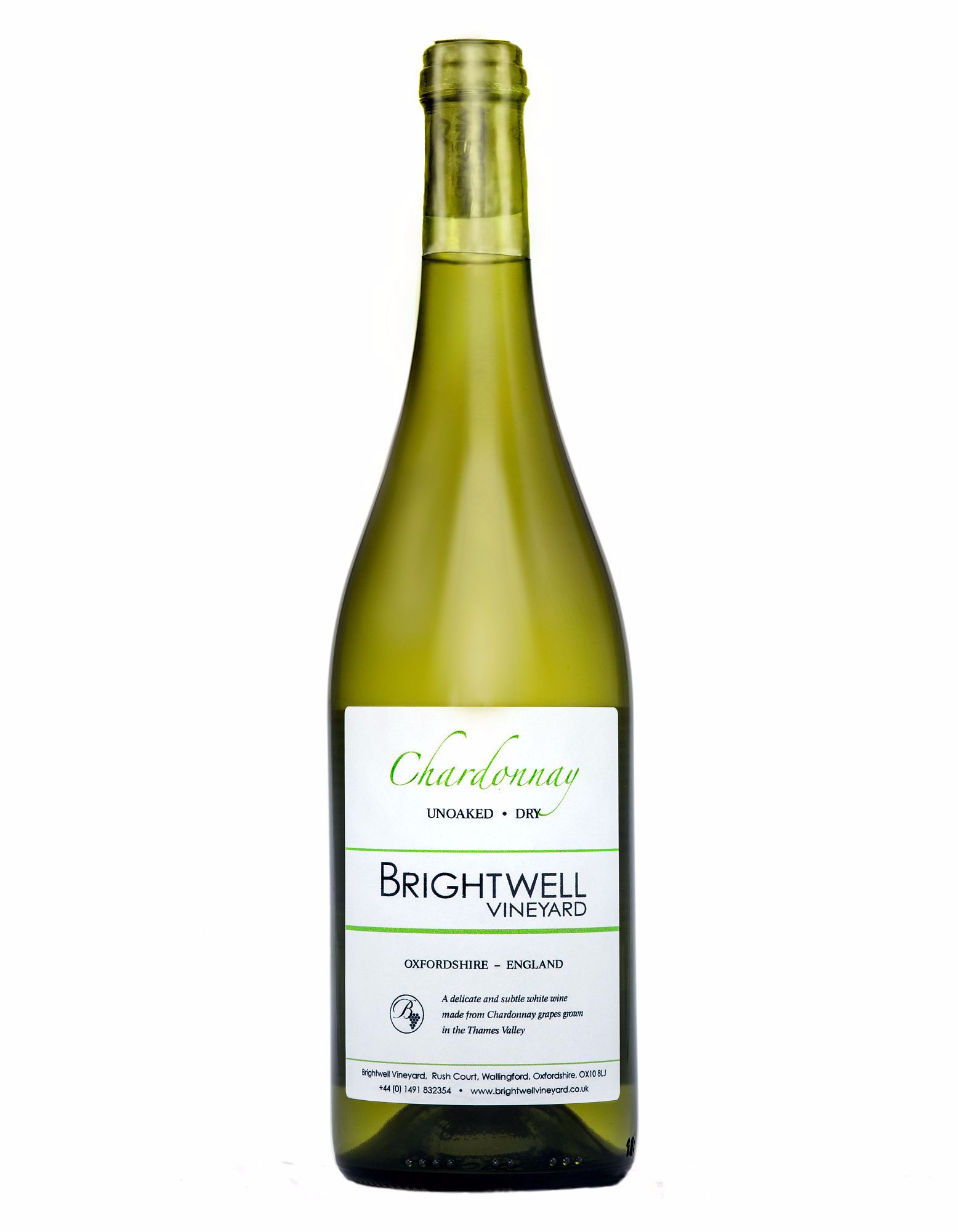 Chardonnay grapes grown in the moderate climate, and alluvial chalk and flint soils of our vineyard in the Thames Valley, produce a subtle and delicate wine. Our unoaked, natural style of white winemaking allows the characteristic
Chardonnay flavours of apple and lime to come through on the palette with just a hint of vanilla. Perfect on its own, Brightwell Vineyard's Chardonnay is a good accompaniment to white meat and most cheeses.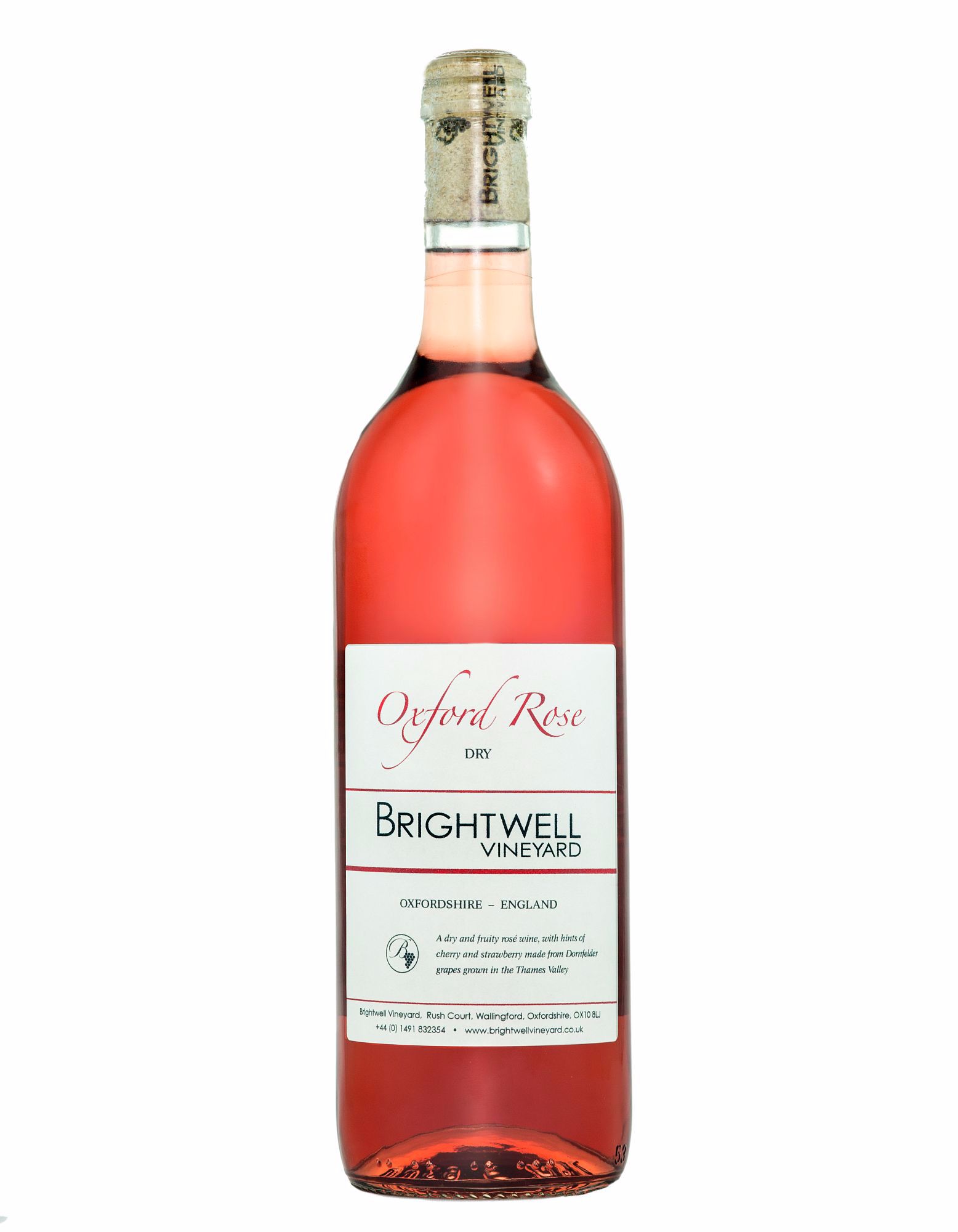 This rosé wine is produced solely from Dornfelder grapes. The juice has had brief contact with the red grape skins to give a vibrant colour and a gentle tannin strength to the wine.
A refreshing drink by itself or with fish, salads, pasta and picnics. With an initial cherry flavour, Oxford Rose fades to a strawberry finish.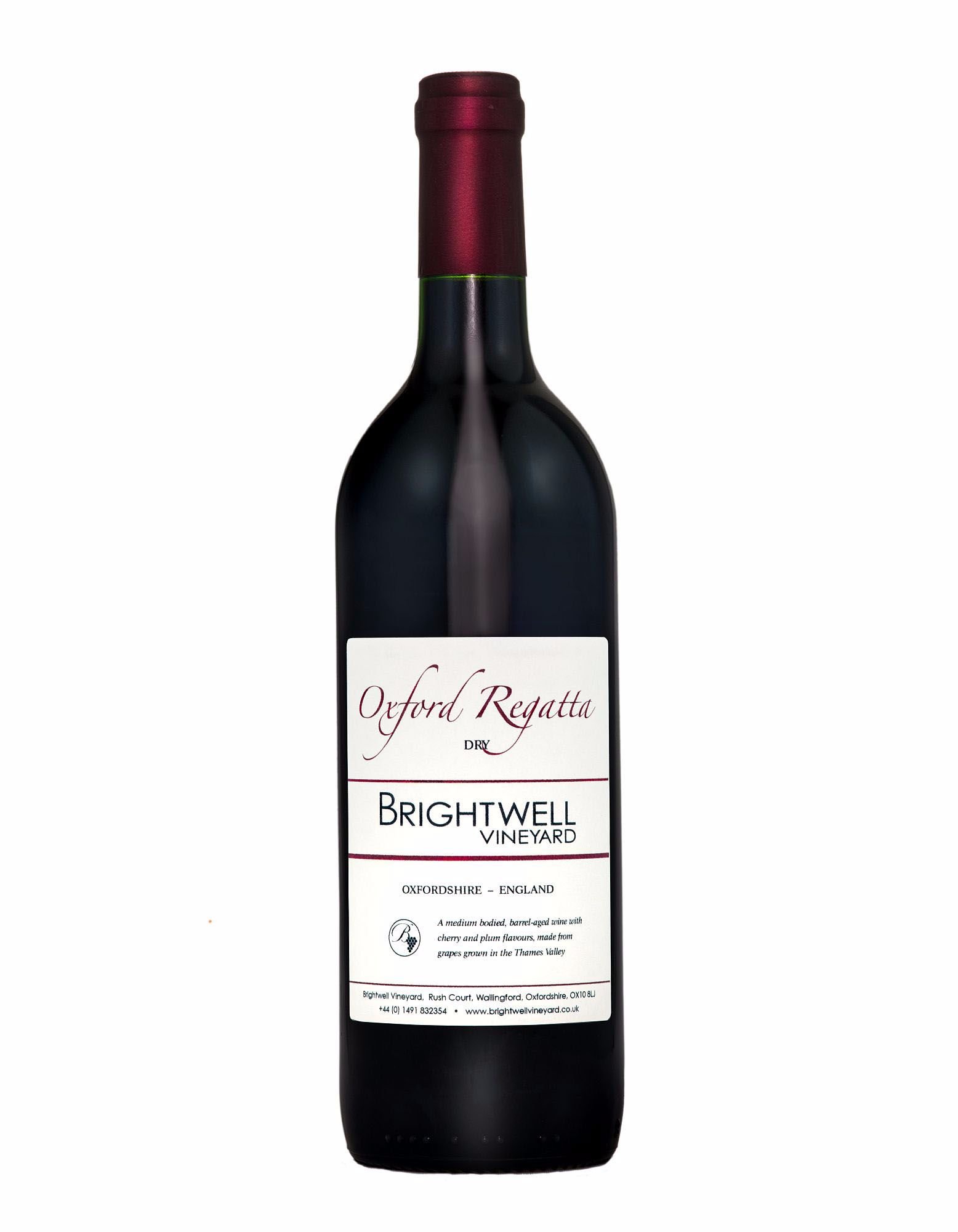 A very clean, fully dry red wine, blended from Dornfelder grapes. A similar style to northern Italian red wines, it has a refreshing clarity and is redolent of English summer berries, cherries and damson and has a long finish. Oak barrel aged, it has firm tannins, and is an outstanding example of the ever-improving quality now being achieved in English winemaking.
Oxford Regatta is a versatile wine that drinks well on its own, or accompanying any food. Clean and smooth it will balance red meats or highly spiced foods such as Chinese and Thai dishes.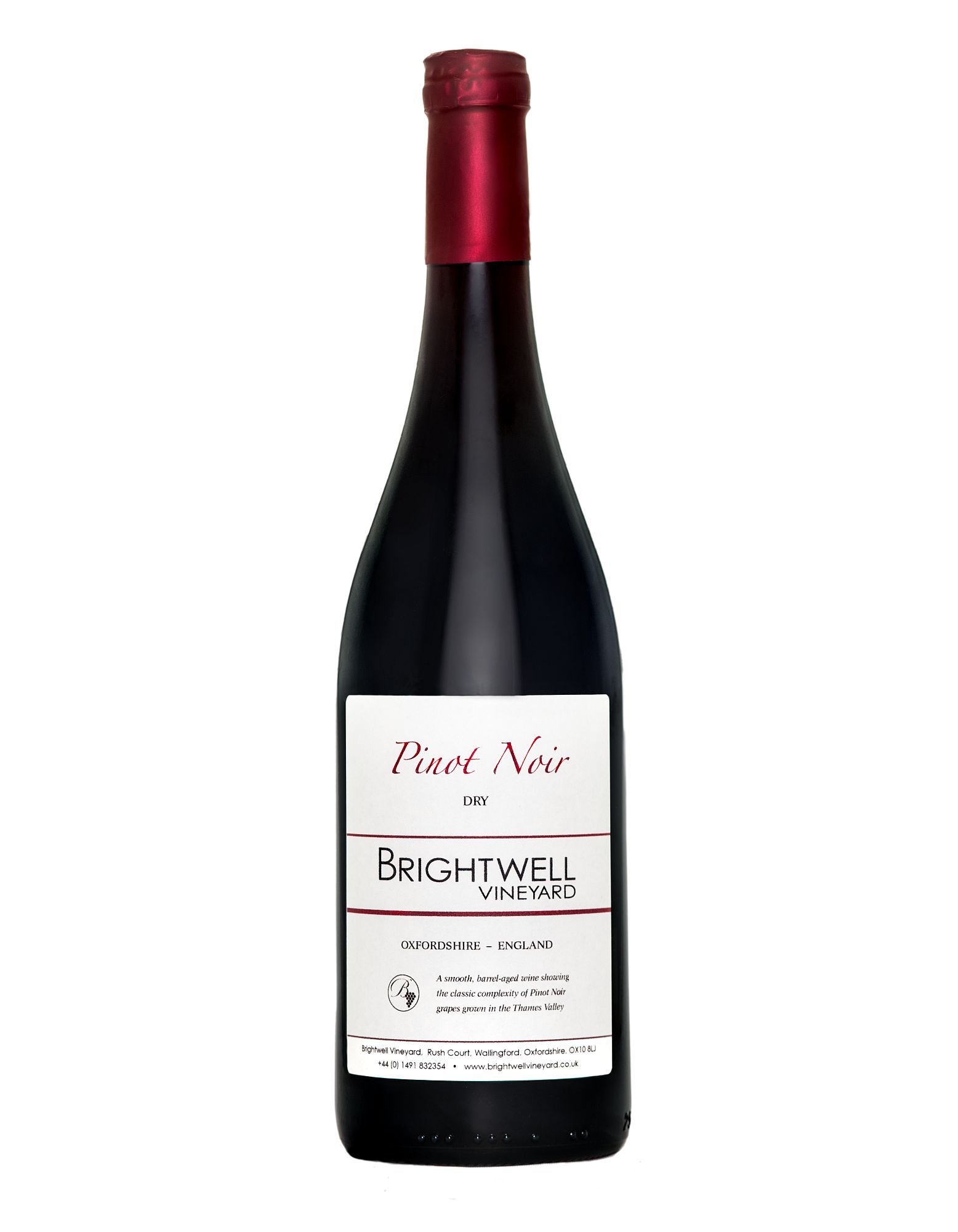 Growing Pinot Noir in the mild climate and alluvial soils of our vineyard in the Thames Valley, preserves the elegant character of this noble grape. Gentle maturation in oak barrels has enhanced the delicate cherry and summer berry flavours of this wine. Rounded with subtle tannins, there are hints of spice in its long, dry finish on the palate.
A complex wine that is ideal with all meats and cheese, and particularly to be savoured on its own.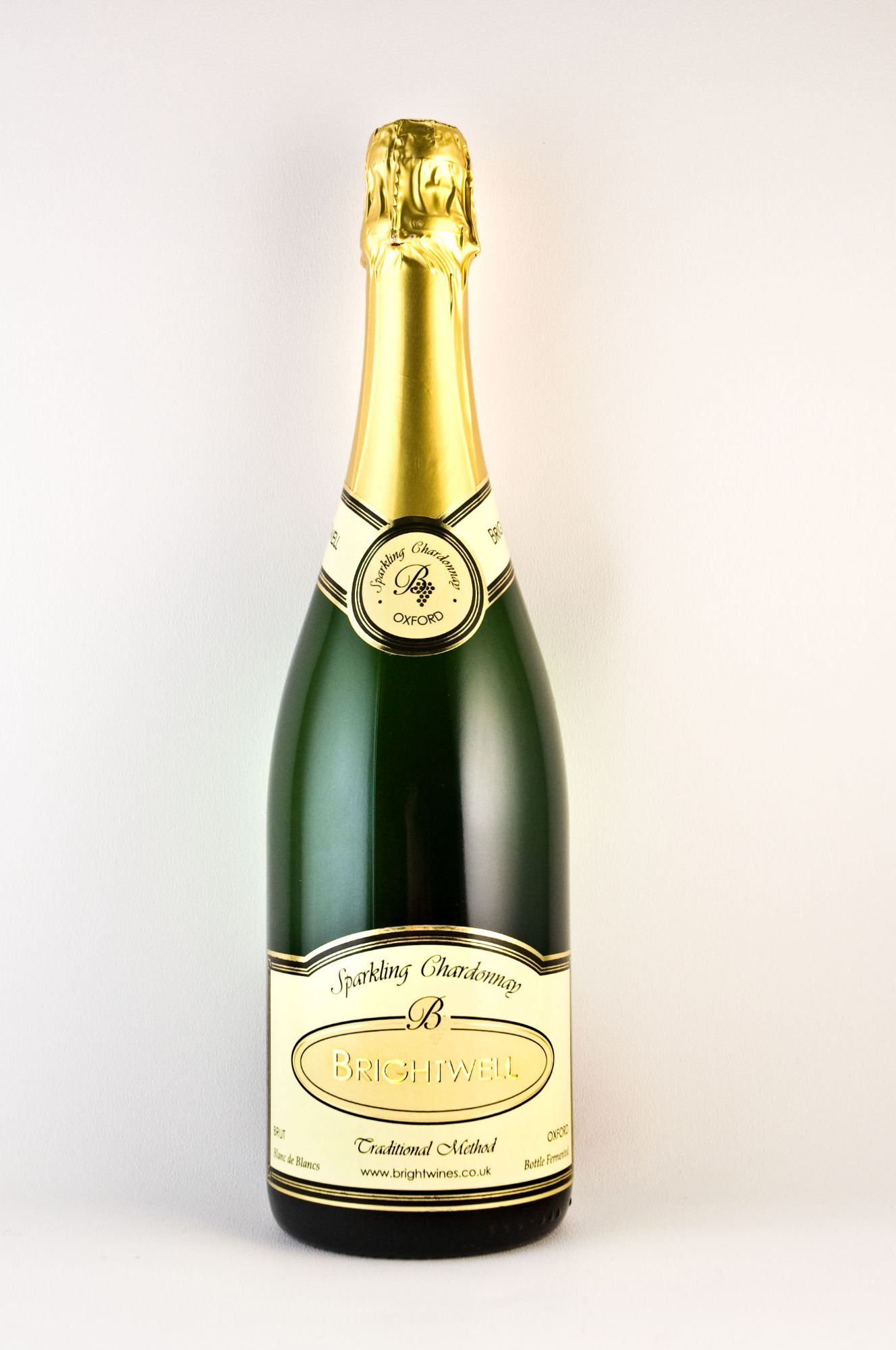 Sparkling Chardonnay Brut - £22.30
Made the same as a 'blanc de blanc' Champagne from 100% Chardonnay grapes, this is a bottle fermented, traditional method sparkling wine that has out-scored Champagnes in blind tastings.
Crisp and fresh with a hint of citrus, a delicate mousse and low sugar.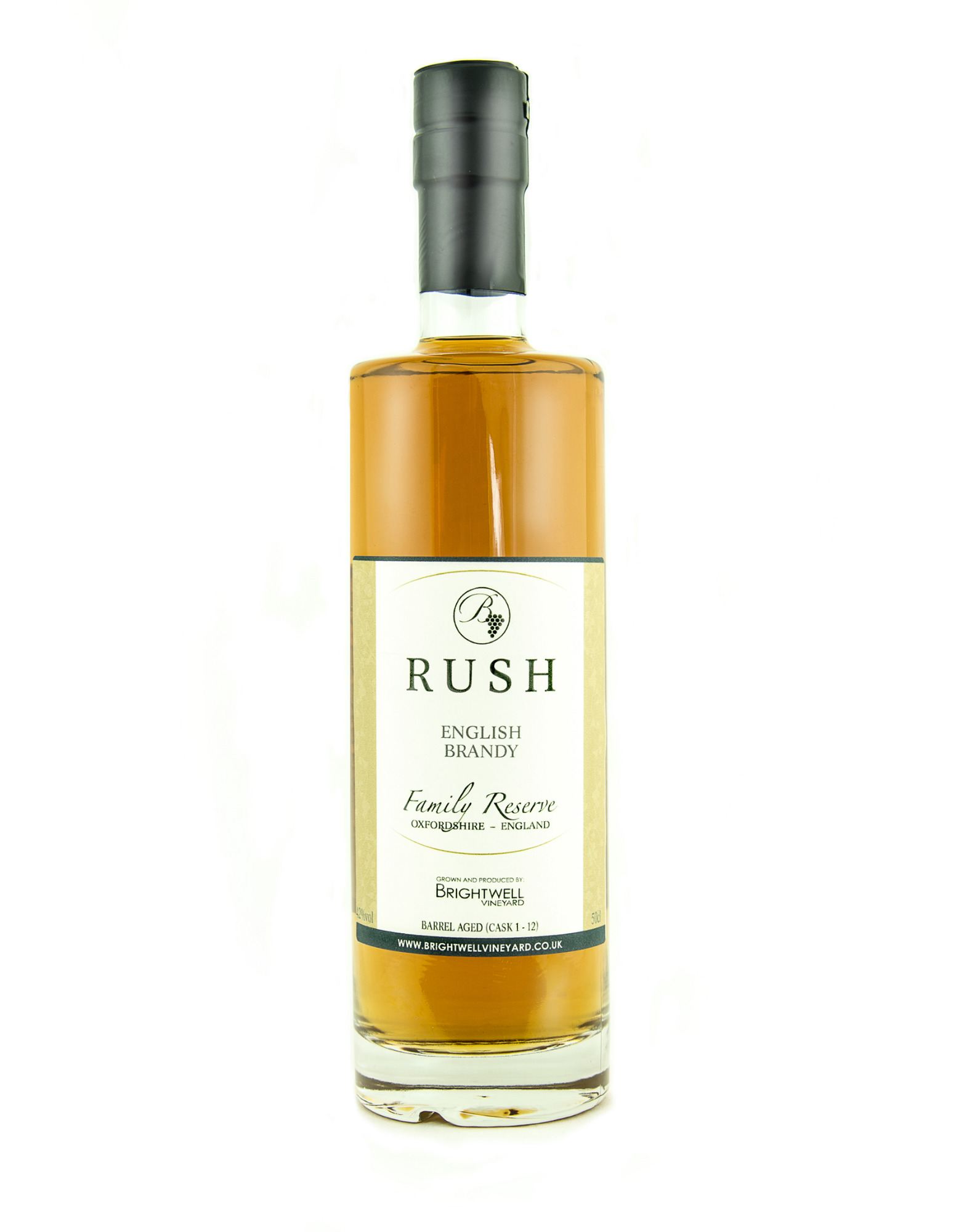 Rush English Brandy - £29.99
Rush is an English Brandy made exclusively from grapes grown and fermented at our vineyard in Oxfordshire's Thames Valley.
Carefully aged in oak casks, Rush displays a classic harmony of complex aromas, with floral notes and lingering spice on the palate. A cut above cognac at 42% alc. International Wine and Spirt Competition Silver Medal winner.